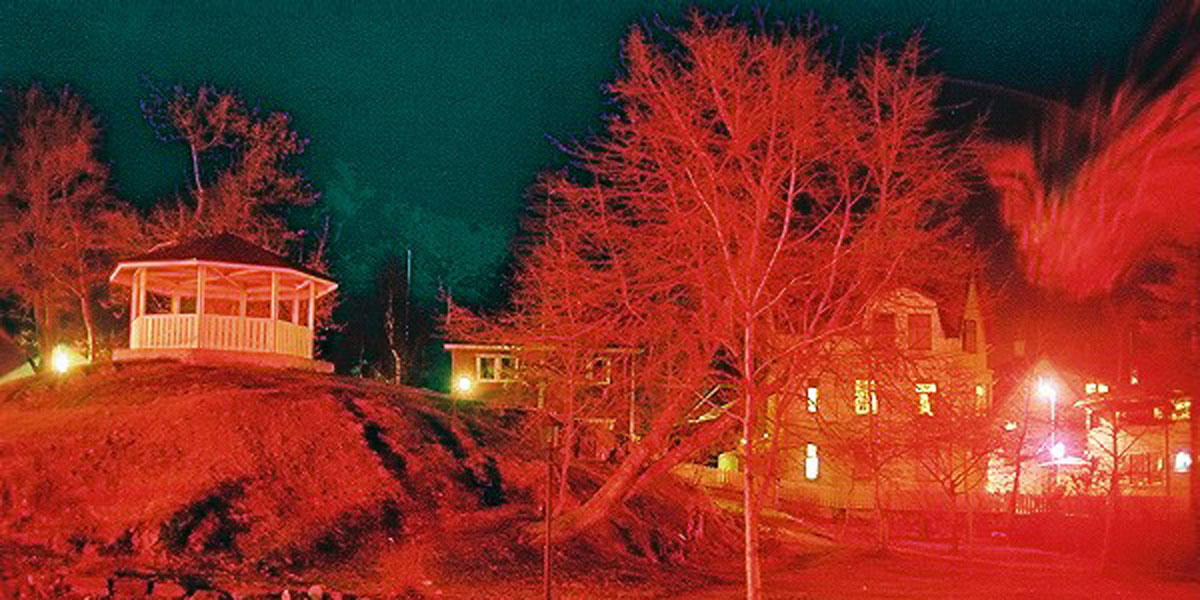 6 May – 30 May 2010
Opening 6 May 5-8pm
Galleri Niklas Belenius is pleased to present Carl Michael von Hausswolff´s second solo exhibition at the gallery.
For the past several years Hausswolff has continued to explore the possibility of exposing different architectural and topographical settings with red light. The exhibition brings together five photographs from his Red series.
By photographing different settings using high-voltage red light, the image itself, or rather the subject of it, emanates from the means by which it is conveyed. The subject in question becomes transformed by its color bath into a real-world monochrome. The image thus becomes a painting in its own right through the monochromatic use of color where the transformative power of light and dark creates a painterly texture and nuance. The monochromatic surface also becomes an examination of changing values across the surface suggesting that repetition can in fact never produce the same meaning.
Even though the photographs offer no reference other than the viewer´s own, Hausswolff´s work is always rooted in a special relationship with the place itself. Red Dawn (2009) is portraying the ruins of German military leader Hermann Goering´s hunting lodge in the Kaliningrad area, Russia, (formerly Königsberg, Eastern Prussia). Through the forest the ruins of the former lodge is barely discernable, as the structure has slowly been erased by nature. By rewriting the history of a particular site brought to life with the color red, the image itself questions history´s disturbing sense of permanency. The overall tone is that of positive reflection on the ephemeral nature of existence and absence but one that never exceeds into nostalgia.
In one of the other recent photographs in the series, Red Cochineal (2007) several Nopal cacti are illuminated in the Mexican countryside. Here the almost invisible female shield louse, the cochineal, works as the extended narrative of the picture. The insect is used to produce Crimson dye; a strong, bright, deep red color that was particularly sought after in Central America in the 15th century by the Spaniards for coloring fabrics. The parasite became an important export product during the colonial period and contributed to the enslavement of the indigenous population by the colonialists.
The picture is the resulting encounter between something that is transient in its contingency, yet charged with its own inherent history.
In addition, the newly published book RED (1999-2010) is released in conjunction with the exhibition and includes all red works in the photographic and installation series by Hausswolff, as well as a text written by Daniel Birnbaum.
Red Dawn (Krajna Lesnje 2009) # 4, c-print, 2009
GALLERI NIKLAS BELENIUS
ULRIKAGATAN 13
115 23 STOCKHOLM
+46 (0) 8 662 82 07
+46 (0) 708 55 68 56
Open: Wed-Fri 12-6pm, Sat 12-4pm
www.niklasbelenius.com
niklas@niklasbelenius.com